Zakynthos island, known by many as Zante, is one of seven Ionian islands on the East coast of Greece. There are plenty of fantastic things to do in Zante.
Zante is well known to Europeans as a package holiday destination as well as one of the party capitals of Europe, with its famous Laganas strip and 'White Party'. Zante also has beautiful beaches and scenery for a more laid-back trip and is one of the best islands in Greece for families.
The island also has some of the best beaches in Greece for families. Often missed off the traditional routes around the Greek islands of Mykonos, Santorini and Athens, the island is well worth a visit, and there's plenty to do and see.
This post will take you through some of the best things to do in Zakynthos, some of the best beaches in Zakynthos, where to stay in Zakynthos, and some fantastic day trips from Zakynthos to help you plan the perfect trip.
This post may contain affiliate links, which means I may receive a commission, at no extra cost to you, if you make a purchase through a link. Please see my full disclosure for further information.
How to get to Zakynthos
How to get to Zante by plane
Zante has one main airport which serves flights from around Europe. Significantly more flights run in the summer months. It may be necessary to fly to Greece's capital, Athens, and board a flight to Zante in the winter.
To get to Zante from outside of Europe, you will usually have to change at Athens International Airport too. It's also an option to fly into Athens and board a ferry.
How to get to Zante by ferry (Athens to Zakynthos)
Ferries run from the mainland port of Kylinni to Zante. It's best to hire a car in Athens and drive to Kylinni for this option.
he ferry is very comfortable, with indoor seating, toilet facilities and a bar. Check ferry prices and availability for your dates here.
A Map of the Best Things to do in Zante
Things to do in Zante Travel Guide
1. Explore Zakynthos Town
Top-quality restaurants, mesmerising churches and a beautiful seafront walkway, Zante town is becoming increasingly popular with visitors. As both the capital and commercial hub of the island, Zakynthos town is well worth a visit.
A visit to Zante town is best started in Saint Marcus square. Once the centre of social and political debating, the square is now home to excellent cafes and restaurants.
A seafront promenade is a great place for a walk. Stroll along the vast port promenade for 1.5km passing the monastery of Strofades and the church of Agios Nikolaos on the way. Both Saint Marcus Square and the promenade are a great way to take in the atmosphere of Zakynthos town.
2. Laganas – Things to do in Laganas
The busiest and most popular resort in Zakynthos, Laganas, is popular with families and young people. It's an excellent resort to stay in as you explore Zakynthos, with plenty to see and do:
3. Experience a night out on the Laganas Strip
Laganas is one of the party capitals of Greece, famous for its strip of cheap bars and legendary clubs. The resort attracts millions of party-goers every year. Make sure you pay a visit to Zeros, one of Zante's super-clubs, which hosts some of the main events on the island.
4. A day at the beach
Laganas beach is one of the best beaches in Zante and one of the longest too (9km). I've also chosen the beach as one of the best beaches in Greece for families. There are plenty of sun loungers to hire. Sit back and relax as you take in the crystal clear waters and the views out to sea.
If you return in the evening, there's a long strip of restaurants at the back of the beach. There are PR's outside each venue, so make sure you find the best deal before deciding! I recommend choosing a restaurant with live Greek dancing to get insight into the Greek culture.
5. A walk to Cameo Island
Well known as the wedding venue in Mamma Mia, Cameo is a small island attached to Zakynthos by a small bridge. Once on the island, you can relax on the beach with stunning views onto Laganas bay or sip a cold drink at the bar.
Entrance to Cameo island costs 5 Euro, with a free drink at the bar included in the price.
6. A boat trip to Marothinissi
Visible from Laganas beach, Marathonisi (Aka. Turtle island) is an uninhabited island just off the coast of Zakynthos. Marathonisi is part of a national marine park that aims to protect loggerhead turtles. Boat trips can be booked to view Marathonissi, and some turtles close up.
7. Tsilivi – Things to do in Tsilivi
Located on the North-East coast of Zakynthos, the resort of Tsilivi (also known as Planos) is one of the best places to stay on the island. The resort is popular with those who prefer a quiet break but with many activities.
8. Explore Tsilivi Town
Tsilivi town is home to a wide range of souvenir shops and traditional tavernas and cuisine from all over the world. Take a slow walk through the town and take in the atmosphere.
9. Zante Waterpark. Tsilivi
A water paradise for kids and adults alike. There are so many slides to choose from. There's something for all the family, from the black hole to the space and the younger kids' octopus and pirate boat.
I first visited Tsilivi water-park in 2014 as a day trip from our base in Argassi. We returned to stay at the Aqua bay hotel inside the water park the following two years.
We also visited Zante's other water park in 2014, and although it's much bigger, the quality of Tsilivi water park is much better. The neighbouring Planos bay hotel also has free access to the water park.
Whether you decide to stay at the Aqua bay hotel or visit the water-park on a day trip, make sure you try the lazy river, my favourite part of the park!
I've visited with family previously, but I plan to return with my daughter in the future.
10. Try your hand at Greek dancing
Greek dancing is a very old and popular tradition throughout Greece. Each island and mainland area has it's own interpretation. Why not spend the evening with Greek musicians playing traditional Greek music and Greek dancers. You're welcome to join in and have a go.
Get your guide offers a 'Dinner with Greek dancing tour' where guests can enjoy  Enjoy a night of traditional Greek food, free-flowing wine, music, and dancing in an idyllic setting. Free-flowing wine and traditional Greek meal are included, along with return transfers to your hotel for 11PM. Click here to book tickets in advance.
11. Eat at a Traditional Taverna
Greece's cuisine is famous throughout the world. Each island has its own dishes and interpretations. Take a look at this article by BBC good food explaining the must-eats in Zakynthos.
Once you're familiar with what foods to try, it comes down to finding the best taverna to eat at.
The Greek dinner with dancing tour as above offers a three-course meal at a traditional taverna consisting of  'tzatziki (garlic, cucumber and yoghurt dip), spinach pies, cheese pies, stuffed vine leaves, sausage pies, and Greek salad. T
he main course will include a mix of pork souvlaki and roast chicken with oven potatoes or a vegetarian option of either stuffed tomatoes or spaghetti Neapolitan. For dessert, you can enjoy fruits of the season or a traditional Zakynthian sweet. Click here to book tickets in advance with get your guide.
If you want to explore Zante's tavernas without a guide, then take a look at this guide, explaining the best tavernas in each area of Zakynthos.
12. Keri Caves
 You can find Keri Caves, a paradise of crystal clear waters and caves just off the Keri Cape. You can swim through some of the caves and admire the reflections on the cave ceiling. Many divers visit the area as well as visitors on boat trips.
13. Blue Caves
You'll find the blue caves below the lighthouse in Cape Skinari in the North of Zakynthos. The caves are one of Zante's most popular attractions, with thousands of visitors travelling to the caves each year. The reflections turn the water an amazing shade of blue when inside the caves!
The best way to visit the blue caves is in a small boat, especially a glass-bottom boat. Bigger tour boats do visit the blue caves but they can't enter inside.
14. Shipwreck Beach (Smugglers Cove)
Shipwreck Beach (Aka Navagio beach) is the most well-known shipwreck globally and not to mention one of the most well-known sights of the Greek islands and the most popular tourist trip in Zante. The beach became an impromptu ship graveyard when the MV Panayiotis washed up on its shores in October 1980. If you take a boat trip to Navagio beach, you can explore the rusty shipwreck of the Panayiotis, enjoy a walk on the white sand beach and swim in the clear blue waters. You can also view the shipwreck from the cliff above. Why not get that perfect Instagram shot?
15. Banana Beach
The longest beach in Zakynthos. The beach is very commercial, as with Laganas beach with an array of sunbeds and umbrellas to hire and scattered beach bars. Banana beach is famous for its huge array of watersports, including paragliding, banana boating, pedaloes and canoes. For more information on watersports at Banana beach, visit Banana Watersports.
To reach Banana Beach, it's easier to drive. The beach offers free parking. However, if you don't have access to a car, tour buses can take to Banana Beach in the morning and pick you up. Free coaches run from Zakynthos own and Argassi.
16. Argassi
A popular resort close to the capital, Zakynthos town, in the South-East region of the island. I stayed in the Katerina Palace hotel on my first visit to Zakynthos in 2014. The resort is an excellent place to base yourself if you don't have access to a car. There's a free bus to Banana beach and a regular tourist train to Zakynthos town. The resort is good for nightlife but not as wild as Laganas with a good selection of bars and restaurants.
17. Xigia Beach
A picturesque and pebbly beach on Zante's North-West coast famous for its high sulfur content. The water has hidden qualities to relieve aches and pains.
18. Venture Inland
Away from the beaches and tourist resorts of the coastal areas of Zante, the centre of the island has a lot to offer too. The mountain villages of Kambi, Volimes and Anafonitria are almost untouched by tourism.
Many locals harvest grapes to make wine and olives for olive oil. Venture inland and see a huge range of vineyards and olive tree plantations. You'll understand Zante's real history and culture before tourism, that's still thriving today.
19. Visit an Olive Oil Factory
The Aristeon olive oil factory is a family run business located in Lithkia and produces some of the best olive oils in Greece. The olive oil museum and factory is accessible to visitors all year round, portraying the process of olive oil making from the 18th century to today. You can even try the oil and the olives! If you like what you see, there's a shop where you can stock up on supplies of olive products for your return home. For more information, visit the official website.
20. St Dennis Monastry
The St-Denis monastery or Monastery of Theotokos Anafonitria is well worth a visit. You'll find out more about religion and culture on the island. Heather on her travels has written an excellent blog post on visiting the monastery.
Day Trips from Zante
21. Ancient Olympia
Olympia is located on the Greek mainland. Olympia is an extensive area of Greek ruins, including athletic training areas, a stadium and a temple. It's possible to visit from Zakynthos for a long day.
You can also visit The Archaeological Museum of Olympia, where you will find a statue of Hermes attributed to the sculptor Praxiteles.
The town of Olympia is also worth a visit; wonderful for cut-price gold, leather goods, books and souvenirs. You can also visit the medals museum, which is dedicated to the 1986 Olympics held in Olympia.
To reach Olympia, you must catch a ferry from Zakynthos town to Kylinni port on the mainland. Olympia is a 50-minute drive from Kylinni.
Many tours leave Zakynthos to Olympia each day. This is by far the easiest way to visit Olympia from Zakynthos without the worry of missing connections. This tour takes you from Zakynthos to Olympia in a day. It's also possible to visit by car if you use a car ferry to Kylinni and drive to Olympia.
22. A Day trip to Kefalonia from Zante
Kefalonia is also possible to visit from Zakynthos in a day. Ferries depart from Agios Nicholas in Skinar with ferries taking around one hour.
Make sure you pay a visit to Dragorati cave, where you can take a boat ride under stalagmites and stalactites. The cave was revealed in 1953 after an earthquake. Argostoli, the capital of Kefalonia, is also well worth a visit. The town is built on a hillside overlooking a marina.
To get an insight into local life, why not visit the fishing port of Agio Efimia. Don't miss the perfect photo opportunity at Myrtos Bay!
I visited the beautiful towns and villages in Kefalonia on a day trip from Zakynthos in 2015. It was surprising how much of the island could be seen in a day.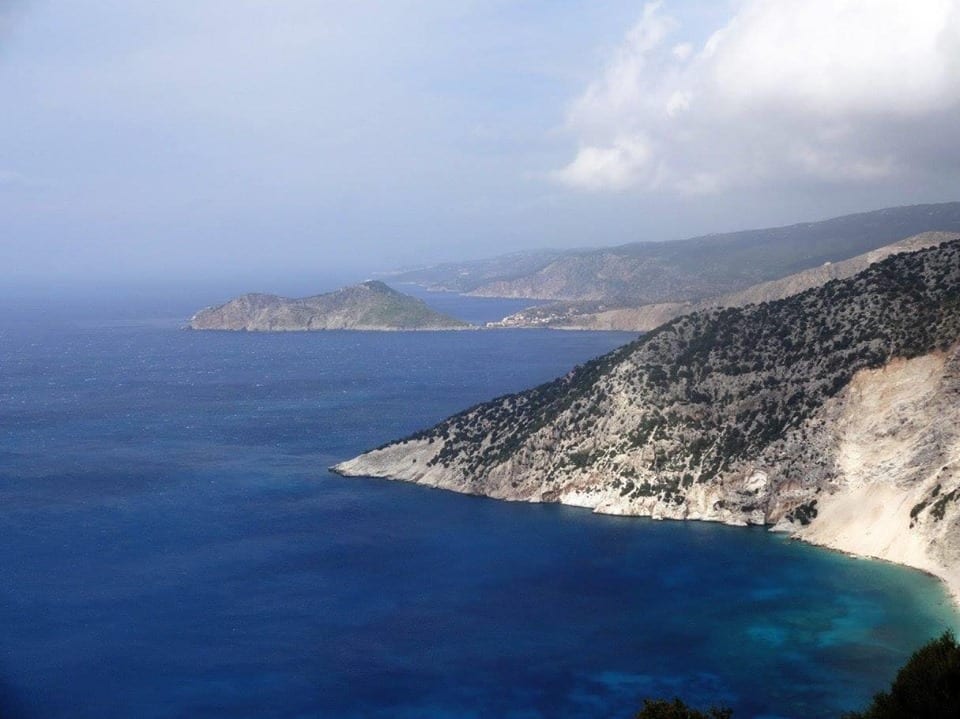 Getting around Zante
By Car – Hiring a car is the easiest way to get around the Greek islands. Cars can be hired in Athens and driven around the islands by car ferry. Alternatively, you can hire a car at Zakynthos airport on arrival.
By public bus – Buses are a cheap way of getting around Zakynthos. Buses connect the main tourist resorts together rather than attractions. Although buses can be unreliable, they're a good way from getting from A to B if you want to visit another resort.
By taxi – Taxi's are easy to come by in Zakynthos. Any hotel will be happy to call one for you, and there's a taxi rank at all major resorts and at the airport. Taxi transfers can also be booked in advance with Holiday Taxis. See the transfer prices for your dates here.
By Tour – Booking tours is one of the best ways to get around Zakynthos. Many include hotel pickups and a mixture of a bus tour, boat tour and experiences with local knowledge that's hard to replicate on your own. Click here to view the tours available in Zakynthos. I recommend booking in advance.
Return to Homepage >>>