The island of Kefalonia island, Greece, is in the Ionian islands and is a great island to visit in Greece for families. If you're looking to go to Kefalonia with kids, either as a whole holiday or while island hopping, these are some of the best towns in Kefalonia to visit!
This post may contain affiliate links, which means I may receive a commission, at no extra cost to you if you make a purchase through a link. Please see my full disclosure for further information.
Kefalonia Map of Best Villages and Towns
Beautiful Villages in Kefalonia
The nine Greek villages below are some of the most beautiful on all the Greek islands and a must-visit when in Greece with kids. On your holidays to Kefalonia, don't miss out on these places!
#1 Skala, Kefalonia
In Kefalonia, Skala is among the most well-known villages and is one of the best places to stay in Kefalonia! It's known for its forests, some of the best restaurants in Kefalonia, and the stunning Skala beach – one of the best beaches in Kefalonia.
With many boat tours and activities, it's the perfect place to visit Kefalonia for kids!
#2 Fiscardo, Kefalonia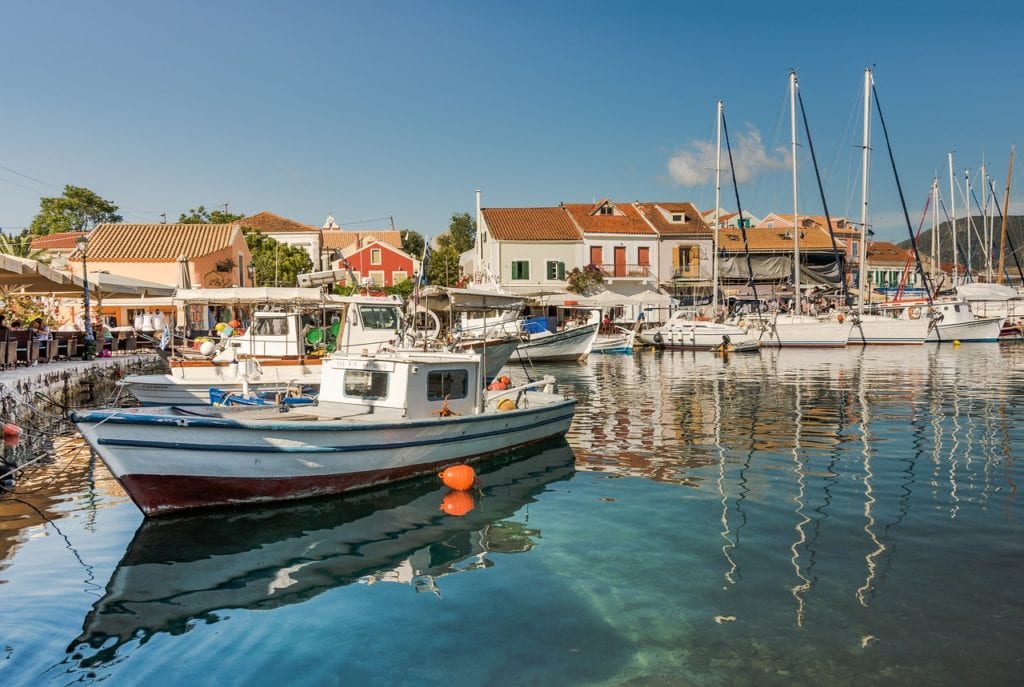 Fiscardo (Fiskardo), Greece, is a definite must if you're looking for things to do in Kefalonia.
The sizeable cosmopolitan village is the most famous and most visited of villages and towns in Kefalonia, and there are many private yachts and boat trips in Fiscardo Bay, a well-known Kefalonia port. Fiskardo beach trips promise some of the best beaches in Kefalonia!
Fiscardo is just as beautiful at night. Why not book this Fiscardo at night tour?
#3 Lourdas, Kefalonia
Also known as Lourdata, this is a popular family-friendly village on the Greek island of Kefalonia. Lourdata beach trips promise clean, clear sand and seas. Specifically, Lourdas Beach, Kefalonia, is known for its good weather and good fun! The lovely village itself is on the slopes of Mount Ainos.
#4 Assos, Kefalonia
While on your holidays to Kefalonia, don't forget Assos! The quaint little village has its own small 16th-century castle built on the coastline. A visit to the castle is one of the most interesting things to do in Kefalonia for those who like history!
Assos Beach, Kefalonia, is a great place for a swim or snorkelling session. In Kefalonia, Assos is one of the prettiest places to see! Why not book this private discover Assos tour?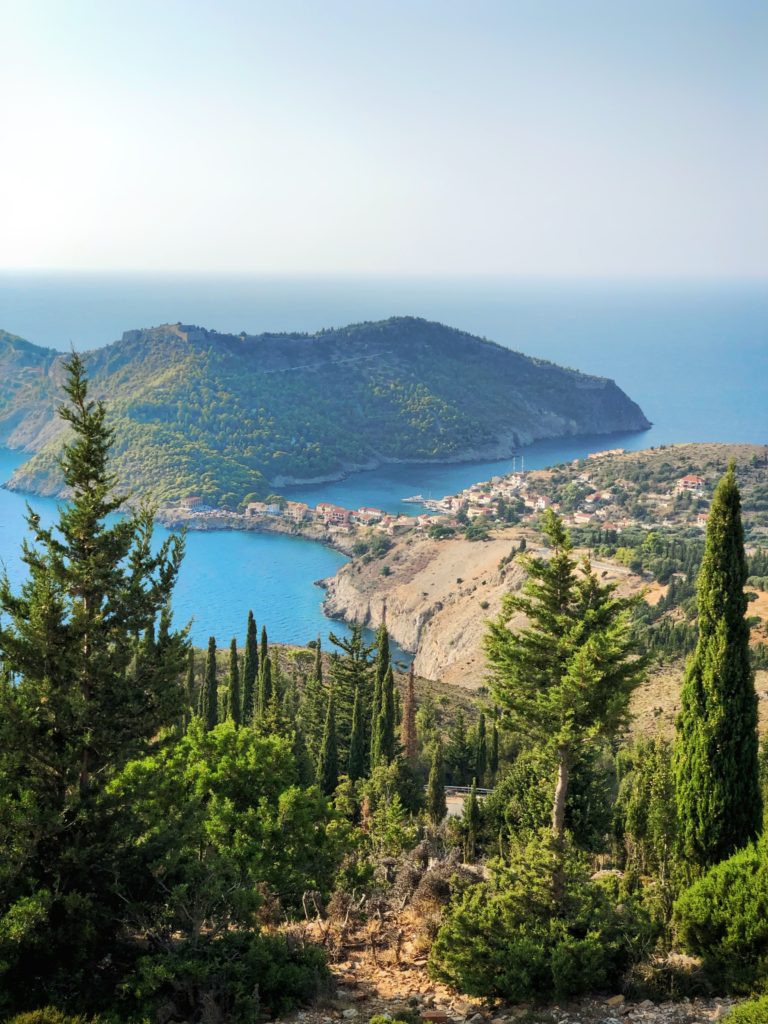 #5 Lixouri, Kefalonia
Lixouri is the biggest village in Kefalonia and one of the most visited villages and towns in Kefalonia. It's known for its archaeological museum, its monastery and churches, and a rich music culture.
There are also several beautiful beaches. Even though it's technically a village, Lixouri is the second largest town in Kefalonia!
#6 Lassi, Kefalonia
Lassi is known for its many beaches and lively tourist scene. It's a family beach resort known for its traditional Greek music and dancing and souvenir shops, restaurants, and more. It's very close to the capital of Argostoli – within walking
distance. It's a resort town that is technically an extension of the capital city, though most people refer to it in its own right.
#7 Sami, Kefalonia
The coastal village of Sami and the connected Ancient Sami is a vital village and town in Kefalonia. It's home to the second-largest port on the island and is a renowned Kefalonia town for boat travel to Patras, Italy, and several other Greek islands. It's also an excellent spot for Kefalonia fishing.
#8 Agia Efimia, Kefalonia
There are many well-known beaches in the small, quaint village of Agia Efimia, named for a saint. There are several beautiful Venetian fortresses and the famous Monastery of Themata. Many private trips go to hidden gems both on the island and across the water.
#9 Kourkoumelata, Kefalonia
The small village of Kourkoumelata was completely rebuilt after the massive earthquake of 1953, which shook the entire island of Kefalonia. The restructuring was funded by the local Vergotis family.
The public buildings and spaces are very different from the rest of the island, and it's definitely a sight of beauty to see!
Towns in Kefalonia
These two towns in Kefalonia are just as beautiful as the villages! There are no major cities on the island, making the towns even more special.
#10 Argostoli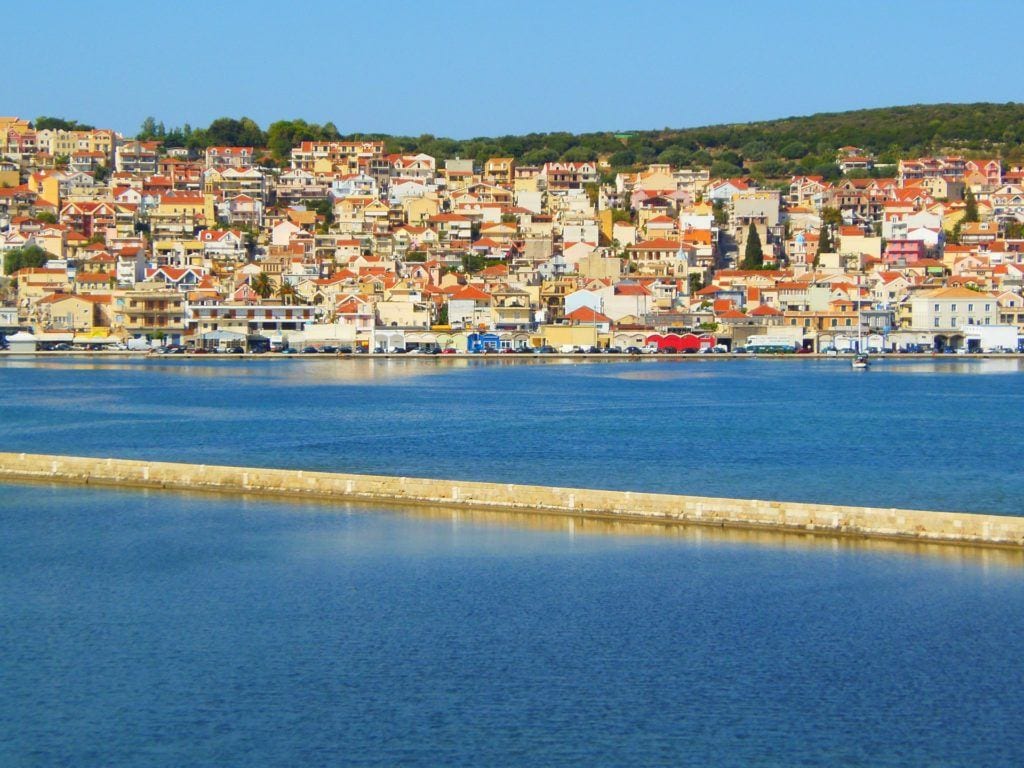 Argostoli is the capital of Kefalonia and contains its major airport. Flights to Kefalonia come here from worldwide as it is one of the 15 international airports in Greece. The breathtaking Koutavos Lagoon is to the east of the town.
Though earthquakes have repeatedly destroyed parts of the town, it's still the island's thriving capital.
Within Argostoli are the ruins of Krani, a major city of Kefalonia in ancient times. Around Krani are the remains of the Cyclopean walls, huge protective walls that protected the city.
There are many things to do, from museums to beaches, and there are easy access points to nearby towns and villages. For sightseeing, the Church of Agios Spyridon and the Clock Tower of Campana Square aren't to be missed.
For adults, there are also late night clubs and bars. There are also many fashionable boutiques for those who enjoy shopping! Why not check out this Argostoli sightseeing and suburbs tour?
#11 Poros
Poros is one of the best family-friendly towns in Kefalonia. It's known for its long sandy beaches with shallow swimmable waters and its small, easily walkable grassy hills. The oldest building on the island, the Monastery of Artos, has been standing in Poros since the 8th century!
Many attractions and hiking roads have their homes in Poros. Many of these trails lead to breathtaking waterfalls that aren't to be missed. The Drakaina Cave exists around these waterfalls, burrowed into the high slopes of Poros Gorge. The cave dates back to the late Neolithic Age, at least six and a half thousand years ago.
The excavation of the Mycenaen tomb of Tzanata is the biggest in the Ioanian islands and is right at the entrance to Poros and dates back to the 14th century BCE. The archaeologists have found many royal seals, gold jewellery, and brooches.
It was the burial place of many famous ancient people, including – it is rumoured – the real version of Homer's Odysseus!
Plan Your Trip to Greece
Book Your Ferry Tickets or read our guide on EXACTLY how to travel from Athens to Kefalonia
View Hire Car Prices for Your Dates:
Discover Places to Stay: