The island of Kefalonia is the biggest of the Ionian islands group, with a whopping 150 miles of coastline to be explored. Beaches in Kefalonia vary from small hidden coves to large organised beaches and everything in between.
As a family, you should be looking for a beach with safe swimming and calm, crystal clear waters. You may also want to look for a beach with activities such as watersports. The very best beaches for families will have blue flag status for their cleanliness.
This post will take you through the best beaches in Kefalonia to help you find the best beach in Kefalonia for YOUR family.
This post may contain affiliate links, which means I may receive a commission, at no extra cost to you, if you make a purchase through a link. Please see my full disclosure for further information.
Best Beaches in Kefalonia Map
12 Best Beaches in Kefalonia for Families
Choosing the perfect beach in Kefalonia will depend on the age of your children and the distance of the beach from your accommodation. There are many family-friendly beaches in Kefalonia. Here are our favourites:
#1 Myrtos Beach – The best Beach in Kefalonia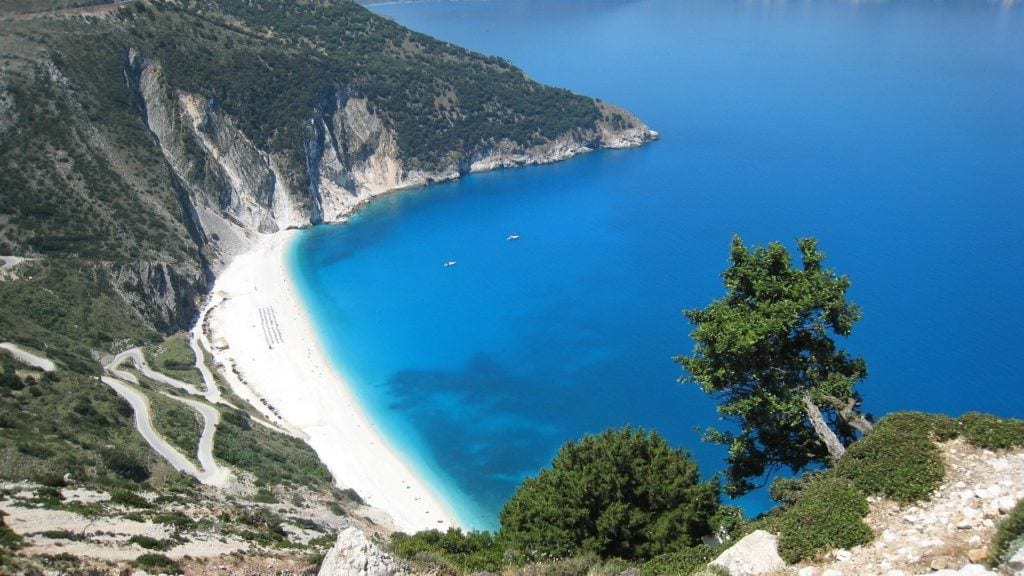 Myrtos beach is one of the most popular photography stops in Greece and one of the best beaches in Greece. The beach is backed by high cliffs and features perfect white soft sand. The covelike shape provides safe swimming in crystal clear waters.
There's a range of sunbeds and umbrellas to hire if you choose. If you want a family beach surrounded by stunning scenery, including wild rock formations and lush scenery, then Myrtos is right for you and the perfect day trip with the family.
2# Assos Beach – Picturesque Village Beach
Although it's small, if you're staying in Assos or taking a day trip to one of the most photogenic villages in Kefalonia, Assos beach is the perfect family day out. You'll find shallow waters and a family atmosphere.
#3 Avythos Beach – Pretty and Organized
Although more remote than some beaches in Kefalonia, Avythos is perfect for those who've hired a car as there's a small car park just behind the beach. The beach is very easy to reach if you're staying in Svoronata or Argostoli.
Avythos is very long and thin, with a wider section used for a large selection of sunbeds and umbrellas to hire. The beach itself is backed by dramatic white cliffs with clinging vegetation.
You'll also have views of other islands out to sea as well as some of the hillside villages of Kefalonia.
#4 Antisamos Beach – Surrounded by Greenery
Located on the east coast of Kefalonia, just 4km from Sami – a popular area to stay for families, Antisamos beach seems relatively remote, backed with lush vegetation.
The unique point about Antisamos beach is the phenomenon of the trees reflecting onto the sea, which makes the sea come across a lush green colour.
#5 Kaminia Beach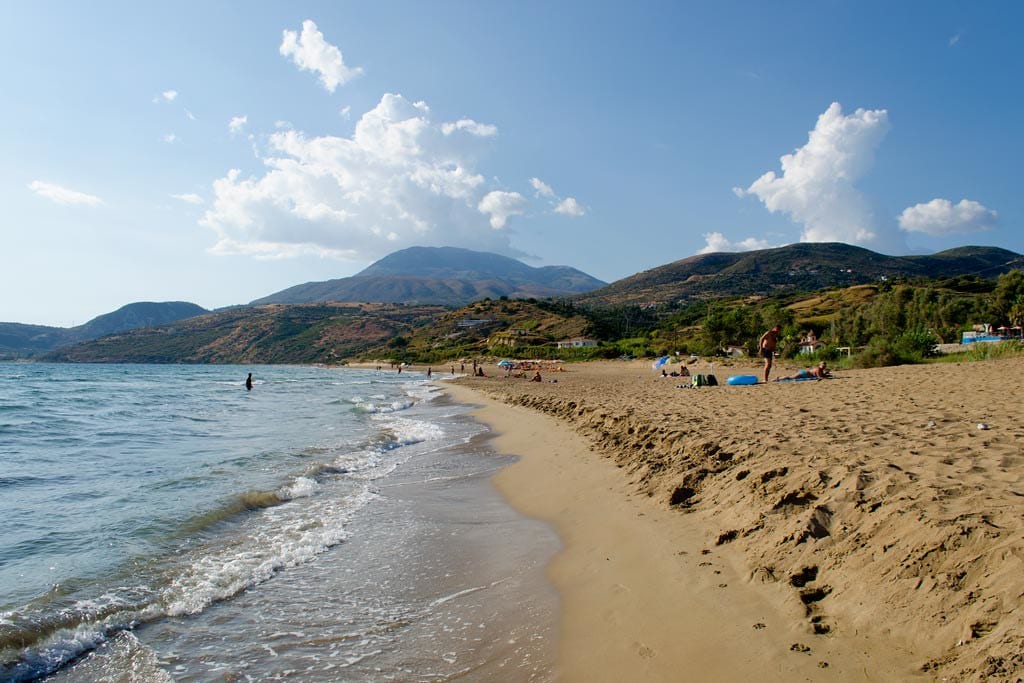 Located on the south coast of Kefalonia, Kaminia beach is one of the largest on the island and within close proximity to Skala – one of the main tourist resorts. The huge size means you shouldn't feel squashed in like with some other smaller popular beaches.
#6 Lepeda Beach
This 2km long sandy beach is just a short drive away from the resort of Lixouri – one of the best areas to stay in Kefalonia for families. The beach is very popular with tourists and locals alike and well organised with sunbeds and umbrellas to rent and a choice of water sports activities. Visitors can hire boats and canoes.
#7 Koroni Beach
Koroni beach is extremely picturesque, surrounded by lush vegetation. You'll find the beach to be quiet and clean – perfect for a family day out. There's a few sunbeds and umbrellas to hire too. The beach is surrounded by lush vegetation.
#8 Lourdas Bay Beach
This curving sandy beach is one of the very best beaches in Kefalonia for families. There are many tourist developments near the beach, so you'll find plenty of places to stay for a perfect family beach holiday. There's a range of watersports to choose from. If you'd prefer to spend time on the beach instead, you can enjoy picturesque views of the neighbouring island of Zakynthos.
#9 Makris Gialos Beach
Makris Gialos beach has blue flag status. This means that standards of environmental management, safety, water quality and environmental education have been met.
Makris Gialos is very near the capital town of Argostoli, where there's plenty of things to see and do as well as Lassi – a popular resort for families. The beach is relatively long and wide, with the organisation at one side and a clear beach with rocks at the other side – perfect for safe rock climbing.
The shallow waters are extremely clear and perfect for kids. Visitors can take part in jet skiing and banana boating in a sectioned off part of the beach.
Makris Gialos beach is one of the more crowded beaches in Kefalonia, but if you're looking for a busy beach area close to a resort, Makris Gialos beach is the best beach in Kefalonia for you.
#10 Platis Gialos Beach Kefalonia
Platis Gialos is one of the nearest beaches in Kefalonia to the capital of the island, Argostoli. The beach is separated from the neighbouring Makris Gialos beach by a cliff jutting out into the sea and some rocks.
If you want a beach close to Argostoli and some major tourist resorts but slightly less crowded than nearby beaches, choose Platis Gialos. You'll find white – soft sand perfect for sunbathing as well as shallow waters – perfect for kids. There's also a range of watersports available.
#11 Skala Beach Kefalonia
Skala beach is one of the most developed in Kefalonia and is located in front of the popular tourist area – Skala. It's also one of the best beaches on the Ionian islands for families. The beach is large, flat, backed with palm trees and well organised with sunbeds and umbrellas to hire. You'll find great swimming at Skala beach with calm seas and crystal clear water.
If you're arriving in Kefalonia by ferry into Skala port, this beach is within walking distance! Behind Skala beach, you'll find plenty of bars and tavernas either for a quick snack or an authentic Greek meal. In the evenings you can watch a perfect greek sunset.
#12 Xi Beach
Xi beach is the most unique beach in Kefalonia. Backed with cliffs cascading down onto the sand, the reddish-orange sand contrasts perfectly with the water, creating abundant photo opportunities.
The clay from the cliffs can be turned into a mud pack for a unique activity, and it's great for the skin. There's also plenty of water sports available, including boat hire.