Are you dreaming of a Mykonos sunset cruise? This Greek island paradise home to some of the most spectacular sunsets. A sunset cruise in Mykonos can be an unforgettable experience as you witness an array of dazzling colours while gliding around the beautiful Aegean.
Whether you're looking for a romantic outing with your beloved or an adventurous voyage with friends and family, there are plenty of options to suit every kind of traveller.
My two-month Greek island-hopping adventure would not have been complete without my visit to Mykonos. Watching the sunset over this spectacularly beautiful island was one of my favourite highlights. To get the most out of my experience, I decided to embark on a sunset cruise.
This post may contain affiliate links, which means I may receive a commission, at no extra cost to you, if you make a purchase through a link. Please see my full disclosure for further information.
Here are the BEST Mykonos sunset cruise options in 2023!
The Mykonos Sunset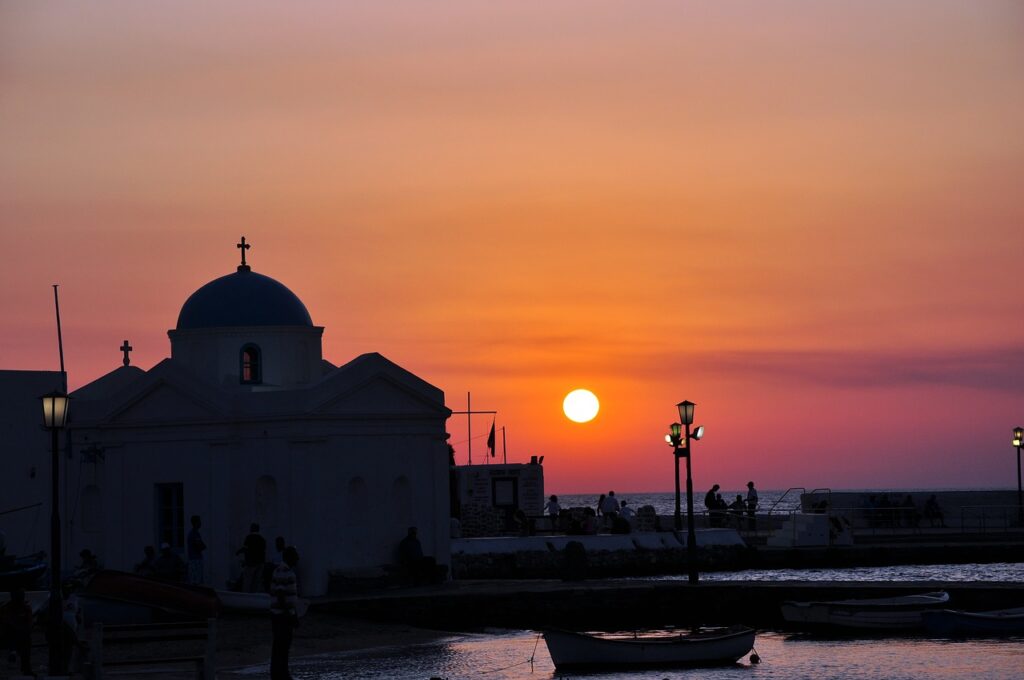 The Mykonos sunset is truly a breathtaking experience. The sky is filled with intense shades of orange, pink, and red as the sun descends into the horizon.
Best viewed from a boat, you can admire the picturesque views of this Greek island paradise while enjoying an unforgettable evening out on the waters. The best time to witness this spectacular event is from late April to mid-October.
The BEST Mykonos Sunset Tours in 2023
There are several sunset cruise options in Mykonos. Here are the best Mykonos sunset tours available in 2023: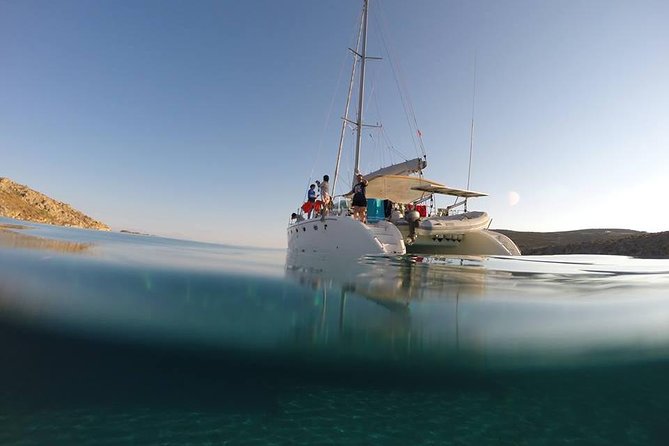 Embark on a magical Mykonos sunset cruise aboard a luxurious catamaran for an unforgettable experience! This fantastic journey includes a delicious multicourse Greek meal cooked right on board. The tour includes all the amenities you need to enjoy the beautiful islands of Rheina and mythical Delos, including unlimited beer and wine from the open bar.
The Mykonos sunset cruise is the perfect way to end a day of exploration around the stunning beaches and coves around Mykonos as you watch the sun slowly dip below the horizon. And, with a maximum of 12 people on board, you can take part in an intimate tour that allows you to share the experience with your friends and family.
If you can't squeeze in a Mykonos sunset cruise during the day, don't worry! You can also opt for a daytime cruise where you'll be treated to some of the best views of Delos, a UNESCO-listed archaeological site.
This is a great way to see some incredible ruins and monuments preserved over the years.
With mykonos sunset cruise, you'll experience the beauty of Mykonos from a unique perspective and create unforgettable memories as you explore everything this destination offers. And for just £157.78, it's an unbeatable price for the luxury and convenience mykonos offers! Book today and prepare for a Mykonos sunset cruise you'll never forget.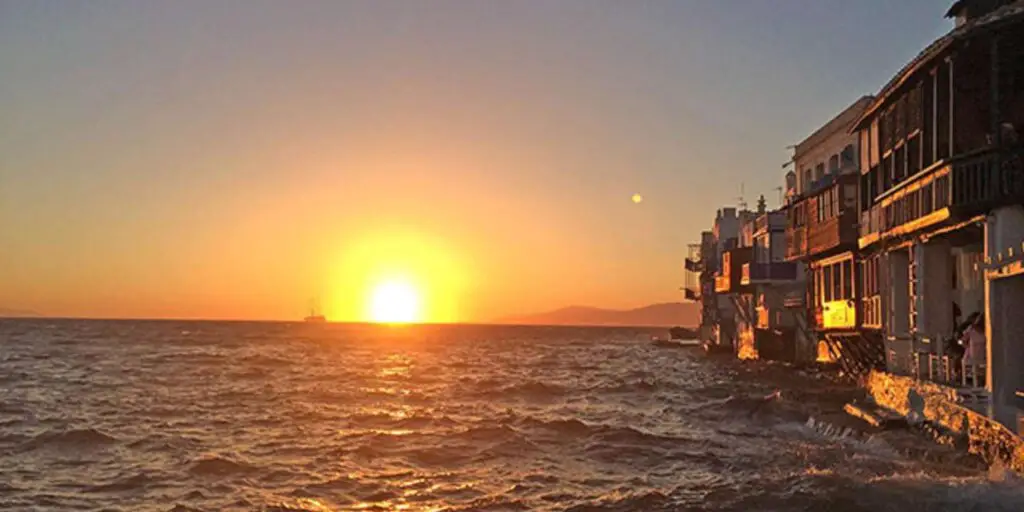 Are you looking for a unique way to spend the evening in Mykonos? Look no further than this unforgettable sunset cruise experience!
For only £44.09, enjoy this peaceful voyage around the coast of Mykonos and to Little Venice at dusk. This picturesque journey will allow you to transition from the active town pace to a relaxing connection with the scenery and nature.
You'll also get to take in magnificent views of Little Venice and Mykonos during this experience.
The cruise includes drinks and snacks, such as a welcome drink of Sangria and various wines and juices. You can also make the most of your journey with some delicious snacks.
The cruise itself starts from the new port and runs from April 16th to October 15th, making it perfect for a summertime activity. With 4.3/5 stars from 118 reviews, this Mykonos sunset cruise will surely be an unforgettable experience!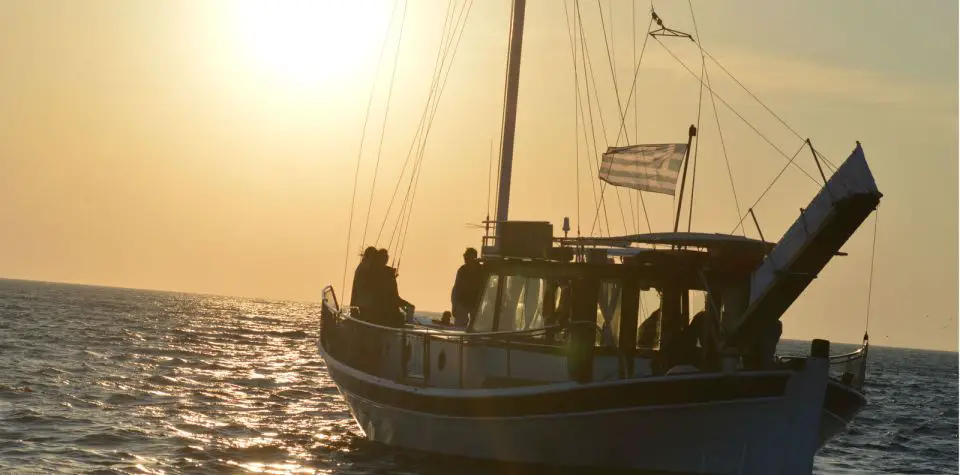 Take Mykonos's beautiful sights from a whole new perspective with a Little Venice Sunset Cruise. This two-hour, the small-group cruise offers an intimate experience limited to just five people so that you can be comforted by the charming buildings and breathtaking views of this famous Greek island.
You'll have plenty of time to take photos, sip on drinks and nibble on snacks while you float around the coast of Mykonos. Make sure you have your camera ready as you witness the ruins of Delos island, which are even more breathtaking at sunset!
You'll also get to drop anchor between the islands of Delos and Rhenia to witness the ruins of the ancient theatre and old harbour. With a 4.1/5 rating, this cruise is one of the best Mykonos sunset cruises in 2023!
This cruise runs from April 16th to October 15th, so you'll get the perfect mykonos sunset experience.
You can also enjoy a variety of delicious snacks and drinks on board the boat, including wine, juices and a welcome glass of Sangria. So sit back, relax and experience the Mykonos sunset like never before.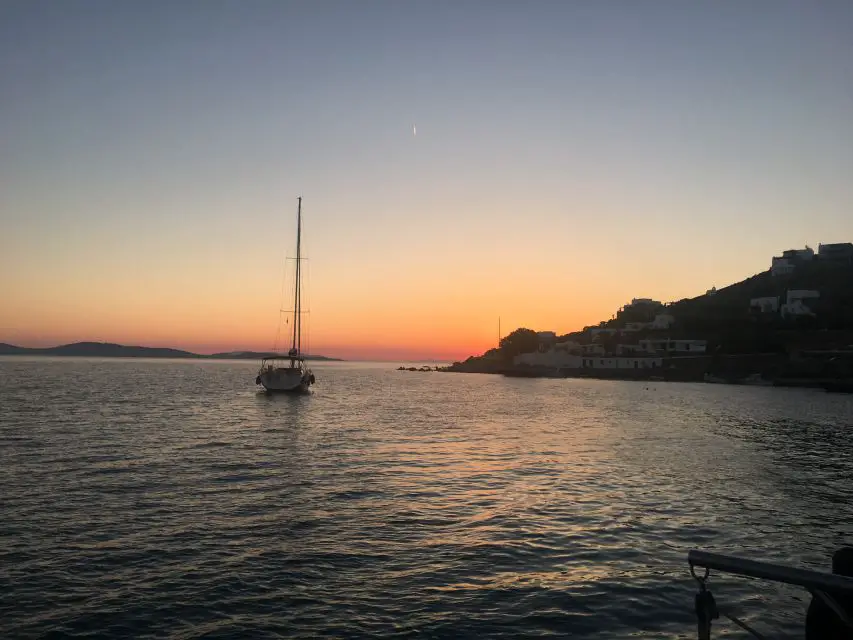 Experience the Mykonos sunset with a Sunset Sailing Cruise with Light Lunch & Drinks! This 4-4.5 hour cruise is an unforgettable experience that takes you around Mykonos and its beautiful beaches, offering breathtaking views of markovian sunsets and Delos ruins.
The cruise begins at the Agios Ioannis Diakoftis small pier, where you will meet your Tour Guide for a welcoming introduction to Mykonos. You'll then set sail and make your way around Mykono's stunning beaches, such as Ornos, Psarou, Platis Gialos, Paraga, Super Paradise, Paradise and Elia.
During this journey, you can enjoy up to two swim stops with plenty of time to enjoy the markovian views. An optional pickup is also available.
As you cruise along the Mykonos coast, you will enjoy a light mykonian lunch and unlimited drinks while watching the sun descend into the horizon. Be sure to have your camera ready as you witness the Mykonos sunset and ruins of Delos island.
The cruise also includes a variety of snacks and drinks such as Sangria, wines, juices and other onion dishes.
With pick-up available, friendly tour guides speaking English or Greek and delicious food and drinks included for just £97.01, this Mykonos sunset sail will surely be an unforgettable experience. Grab your spot today before it sells out for your dates!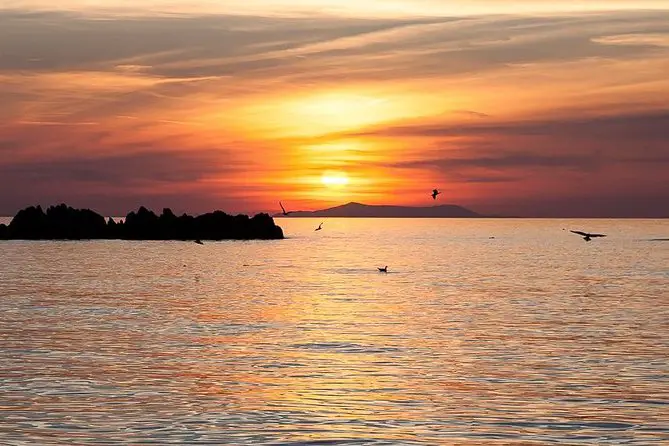 Experience the true beauty of Greece with a Mykonos sunset cruise. Get away from the hustle and bustle of everyday life, indulge in all Mykonos has to offer, and enjoy an unforgettable journey aboard a traditional wooden sailing boat.
As you drift along the coast of Mykonos, feel your stress and worries melt away with each gentle wave. You'll be mesmerized by the colours of the Aegean Sea as it reflects the light from the setting sun. This adults-only cruise includes two drinks to get you in the holiday mood! Enjoy delightful snacks paired perfectly with sparkling wine or Ouzo for an extra touch of luxury.
Relax and enjoy an evening of peace and tranquillity with your loved ones, all while surrounded by nature's beauty. This Mykonos sunset cruise has already earned an impressive 4.5 stars from 27 reviews!
Book this Mykonos sunset cruise before it's too late – It's a once-in-a-lifetime experience you'll never forget! Enjoy a peaceful journey along the coast of Mykonos and take in stunning views – A perfect way to spend an evening with your loved ones!
Delian Sunset Cruise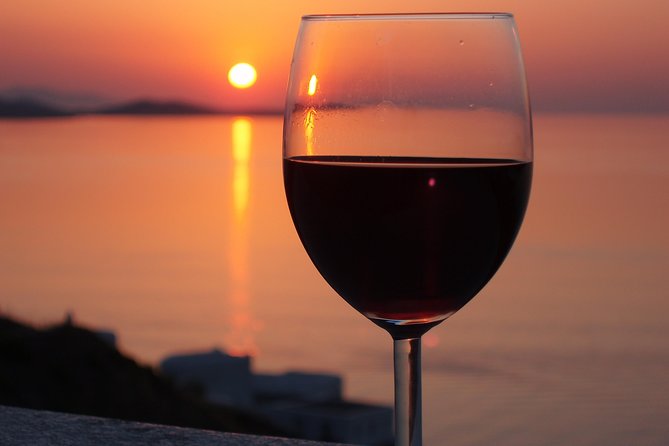 Experience the enchanting beauty of Grecian islands with the Delian Sunset Cruise. This classic tour will take you on a mesmerizing journey through captivating views and breathtaking scenery.
Leaving Mykonos, enjoy the tranquil sights as you sail north towards Delos, where ancient ruins of a theatre, houses and other buildings partially submerged in crystal clear waters await. View several smaller Greek islands as you pass by – some inhabited and some uninhabited – while watching the sunset on the far-off horizon.
As you cruise along, take advantage of the live commentary that will provide important information on what you're seeing. To make it even more special, two complimentary cocktails are included in your package – perfect for sipping while taking in the majestic views!
Pickup for this tour is located in Tourlos, or an optional 6-euro transfer can be organized if requested. With four stars based on 25 reviews, you can't go wrong with Delian Sunset Cruise!
The BEST Mykonos Sunset Cruise Options – Final Words
A Mykonos sunset cruise is the perfect way to end a day filled with exploring, and we guarantee you won't regret it. Take in the beautiful scenery and ancient ruins as you watch the sun set againstthe horizon.
More Sunset Cruise Options
Plan Your Trip to Mykonos!
Don't forget to plan ahead when visiting Europe for Easter:
🛫 Book cheap flights with WayAway
🛏️ Find the perfect place to stay with Booking.com, or discover your perfect holiday home 🏨 with VRBO
🚗 Find the best car rental deals with Discover Cars
🎫 Book amazing tours and tickets with Get Your Guide
Discover More of The Cyclades >>
Homepage >>>