This Kefalonia travel guide will take you through some of the best places to visit in Kefalonia, the best things to do in Kefalonia, the best things to see in Kefalonia and the best Kefalonia attractions to help you plan the perfect visit.
Kefalonia is the largest Ionian island and the 6th largest island in Greece. The island seems somewhat less developed than its neighbours of Zakynthos and Corfu, with many places to explore. Explore the breathtaking landscape of one of the best islands in Greece. From picturesque villages, historic sites and secluded beaches to great outdoor activities and the underground lake of Mellisani, there's truly something for everyone to do in Kefalonia.
Kefalonia is packed with a dramatic coastline, magical caves and beautiful sandy beaches. Inland Kefalonia is mountainous, with the highest peak being Mount Ainos which rises 1628m above sea level.
This post may contain affiliate links, which means I may receive a commission, at no extra cost to you if you make a purchase through a link. Please see my full disclosure for further information.
Map of Kefalonia Greece
Best Things to Do in Kefalonia
#1 Visit Melissani Lake
No visit to Kefalonia is complete without a visit to Melissani Lake. It's one of the main places to see in Kefalonia.
The cave lake roof once caved in, revealing Melissani lake, which was unknown at the time. When the sun hits the lake's waters, it creates an illusion that the water is a perfect shade of blue.
Visitors can take a boat into the second chamber of the cave, where you will see stalactites. It's a must-do experience when visiting Kefalonia.
The lake is located just outside the village of Sami. Many visitors visit Mellisini lake as part of a tour of Kefalonia. Alternatively, visitors can arrive by hire car or catch the bus from Kefalonia's capital, Argostoli.
Entrance is €7
2. Explore Dragorati Cave
#2 Explore Dragorati Cave
Dragorati cave was also uncovered after an earthquake revealed the cave's entrance. Visitors can view fantastic stalactite and stalagmite formations. Also inside the cave is the chamber of Exaltation with excellent acoustics.
Dragorati cave is also located in Sami village. Buses travel to Sami from the capital, Argostoli. Many people visit as part of a day-tour of Kefalonia. The best way to reach Dragorati cave is by hire car. View hire car prices and availability for your dates here.
Entrance is €5 per adult and €3 per child
#3 Visit Argistoli – The Port Town of Kefalonia
There's plenty to do and see as the island's capital here. Being the hub of Kefalonia, most of the main transport networks start here in this ancient town where you can travel to some of the best beaches in Greece. Being both a port and cruise terminal set in Greece's 4th largest natural harbour, the city has plenty of visitors in a sheltered bay.
There are plenty of things to do in Argostoli to suit all ages and tastes. I spent time walking along the main harbour and viewing the buzzing activity during my visit. I loved the little fruit shops scattered around. There are plenty of shops and restaurants selling local produce, too, and you can get fresh seafood at many of the little tavernas lining the harbour.
The main square of Platia Valianou also has plenty of small shops and restaurants.
Be sure to look at De Bosset Bridge, the longest stone bridge over the sea in the world. Built-in 1813, the bridge survived the great earthquake of 1953. Many people have spotted sea turtles when walking the bridge, so keep a lookout! In the summer months, it's recommended to walk in the cooler times of morning and evening to enjoy the experience fully.
If you love Greek architecture, then why not visit the Archaeological Museum. The museum hosts findings from Kefalonia of the prehistoric era dating back to the palaeolithic and Neolithic periods. You can visit the museum 9:00 AM – 2:00 PM Monday-Friday.
If you're planning on spending a more extended period in Argostoli, then there's a collection of beaches walkable from the centre. These include Plati Yialos and Makri Yialos.
Related Post | Things to do and see in Athens for backpackers
#4 Gaze at the view of Myrtos Beach – The Most Famous Beach in Kefalonia
The beach is one of Greece's most famous photo spots and most scenic beaches in Greece – great for that perfect Instagram photo. Many people visit Greece just to see this stunning site on such a beautiful Greek island. It's also been voted one of the top 10 beaches in Greece!
Whether it's a quick photo stop or a full day at the beach, Myrtos beach is a Kefalonia must-see. Be wary of visiting Myrtos Beach in peak season as the photo spots and the beach itself can get very busy – not surprising considering this beach is one of the best beaches in Greece and with so much natural beauty.
Sunbeds and umbrellas are readily available to rent, and there's a range of local Tavernas and shops within walking distance. Why not stay to watch the fantastic sunset?
Myrtos beach is located on the Northwestern coast of Kefalonia. To reach the beach, you have several options. The cheapest way is by bus from Argostoli. The journey will take you just over 1 hour and cost €4. A taxi will set you back around €35-50, a great idea if you're travelling as a bigger group.
#5 Visit Lassi – One of the Most Stunning Beaches in Kefalonia
Lassi is one of the most beautiful beaches in Kefalonia! Located North-West of Argostoli, the resort of Lassi is popular with package holiday tourists and families for its long beaches and clear seas. The resort has all the facilities you'll need, including beach bars and sunbeds to hire.
Getting to Lassi | A taxi from Kefalonia airport will cost you €20. Buses run from Argostoli. It's also possible to arrange a transfer in advance with Holiday Taxis.
#6 A Visit to the Coastal Fishing Village of Fiscardo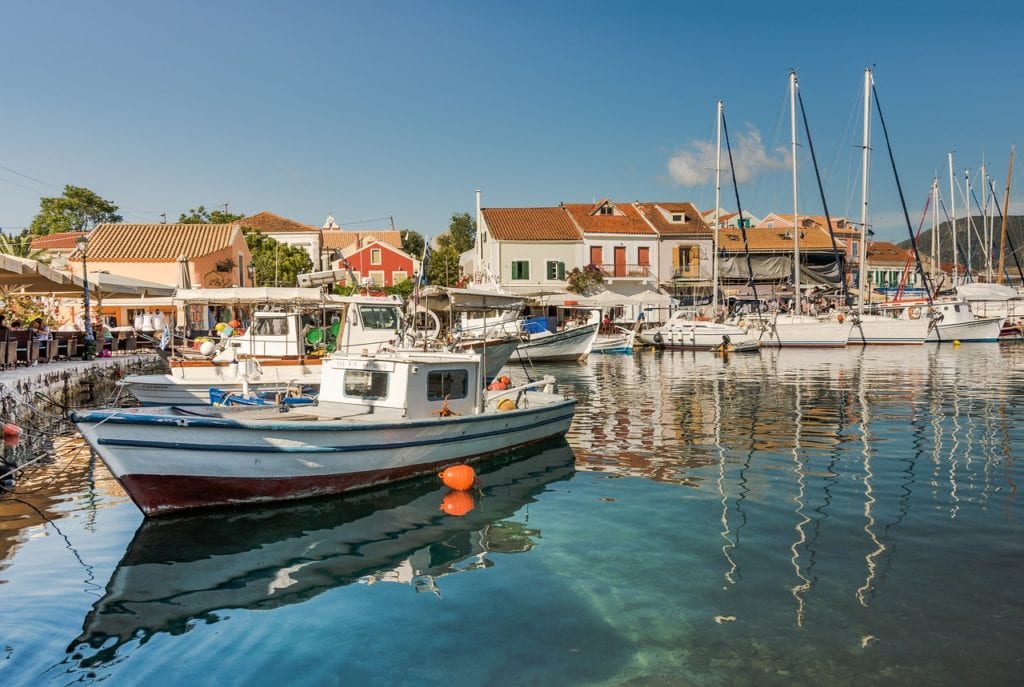 Fiscardo is one of the most picturesque villages in Greece! This former fishing village is now an upmarket resort. There are plenty of things to do in Fiscardo, including spotting the superyachts and fishing boats lining the promenade and visiting all the unique shops and tavernas.
As Fiscardo was almost untouched by the great earthquake in 1953, it's a great insight into how Kefalonia used to be. You'll feel like a time traveller.
#7 Visit one of the Most Amazing Beaches in Kefalonia – Skala
Skala Beach is located in the South of Kefalonia, a picturesque sandy beach popular with families and surrounded by the resort town of Skala. Skala is one of the most famous beaches of Greece's Ionian Islands.
Take your pick of the watersports available on the beach to keep all the family happy, from jet-skis to sea kayaking, scuba diving and banana boating. There are lots of sun loungers to hire too!
Skala beach can get crowded, but it shouldn't be a problem due to its vast size.
How to get to Skala, Kefalonia
Buses run from the capital Argostoli. The journey is 1 hour, 40 minutes and will cost €4. You will need to catch a half-hour bus to Argostoli to board Skala from the airport.
Taxis can get you to Skala from anywhere on the island. From Argostoli, expect to pay €45-55.
If you've hired a car, the drive from Argostoli will take around 37 minutes. View hire car prices and availability for you dates here.
#8 A Visit to an Olive Oil Mill in Keramies
Olive oil production is a massive part of the economy in Kefalonia, spurred on by the perfect climate to grow olive trees. You can learn about how oil is produced. First, an expert will tell you exactly how the oil is made, followed by a tasting session.
If you visit in October, you can even see the mill in action! To visit the olive mill, it's best to have your own vehicle.
Website: Kefaloniapulse
#9 Climb Mount Ainos
Mount Ainos is the only national park located on a Greek Island. The mountain is situated above Kefalonia on the main road between Argostoli and Sami is the tallest mountain on the Ionian islands, reaching 1628m. It's well worth a visit, if not a quick look. Mount Ainos is one of Kefalonia's top attractions. You can't visit Kefalonia without seeing this stunning sight.
It's possible to drive to a point nearly at the summit. Leave your car at the transmitter station on Mount Ainos road and climb up some steps for 10 minutes to reach the top. The highest peak of the national park is Megs Soros.
The views from Ainos National Park are sensational, especially on a bright sunny day. You'll see vast expanses of the Ionian sea and the mainland. There's a vast array of flora and fauna to spot, from the fir oak and semi-wild ponies to tortoises.
There are many hiking trails up Mount Ainos, from just over an hour to a full day. See Visit Greece for more information on the variety of hiking trails available.
#10 Go Turtle Spotting
There are a few beaches in Kefalonia where you can spot loggerhead turtles and their nesting sites.
The main site to spot nesting sites is below Ratzakli at Mounda bay between Skala and Katelios.
If you want to spot adult Loggerhead turtles in their natural environment, try Koutavos Lagoon in Argostoli near De Rosset bridge. They often tail fishermen in search of food.
#11 Antisamos Beach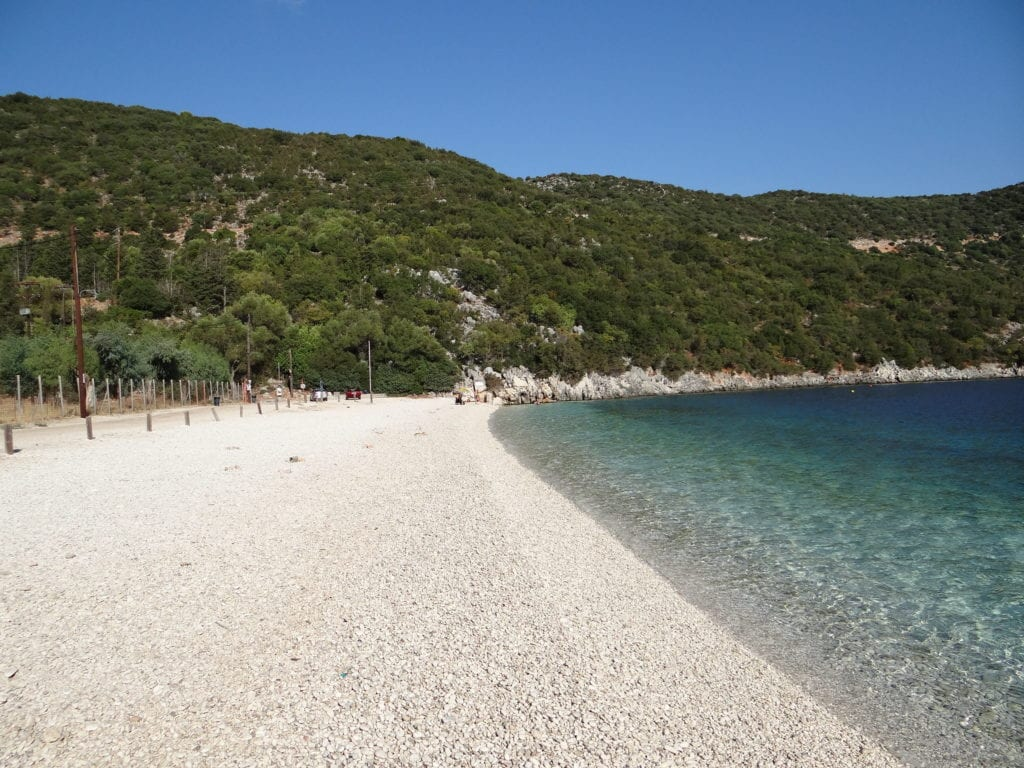 In Kefalonia, there are plenty of incredible beaches to explore – what can you expect from such a beautiful Greek island! Antisamos beach was even featured on Captain Corelli's Mandolin. Antisamos beach has been awarded a blue flag.
#12 Petani Beach
On the West Coast of Kefalonia, just 35km from Argostoli, Petani Beach has crystal clear turquoise waters – the perfect day trip or even a destination for a long beach holiday!
#13 Makris Gialos Beach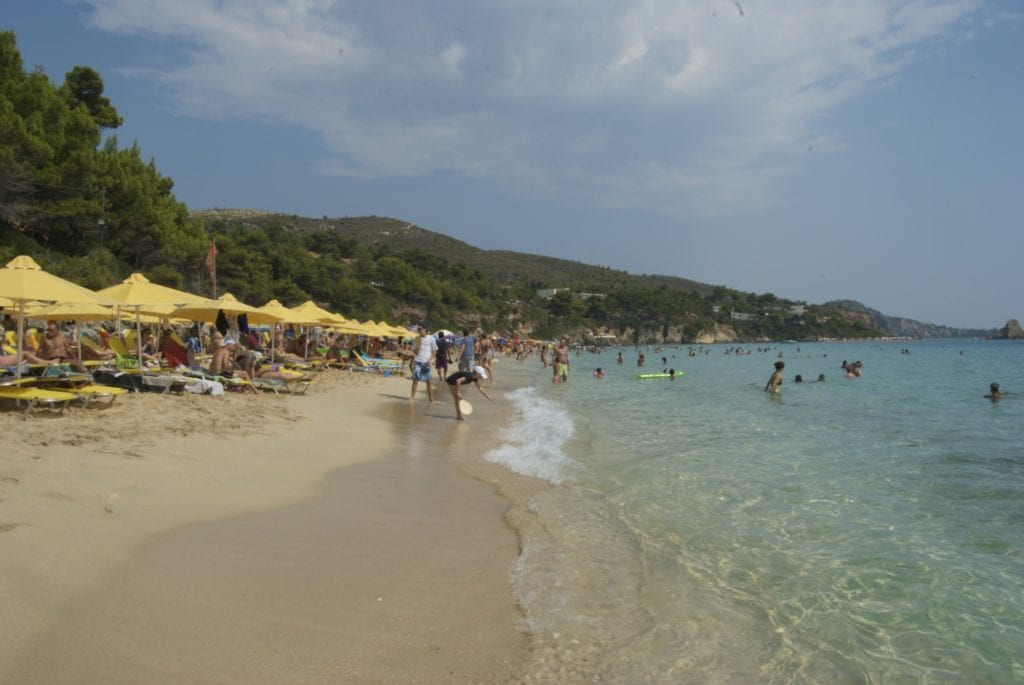 Makris Gialos beach has blue flag status and is the capital city of Argostoli. The fantastic beach is relatively long and wide, with the organisation at one side and a clear beach with rocks and natural shade at the other side – perfect for safe rock climbing. The shallow waters are extremely clear and perfect for kids – you'd almost think you were at a swimming pool! Visitors can take part in jet skiing and banana boating in a sectioned off part of the beach. Makris Gialos is one of the more crowded beaches in Kefalonia. Still, if you're looking for a busy beach area close to a resort, Makris Gialos is the best beach in Kefalonia for you.
Daytrips from Kefalonia
#14 A Day trip to the Neighbouring Island of Ithaki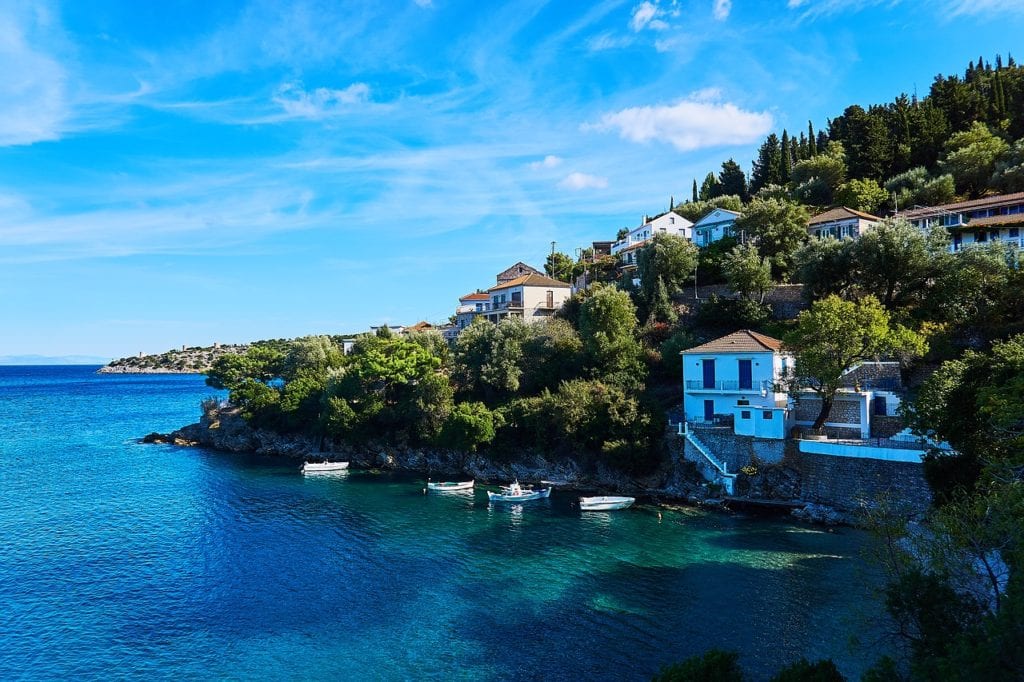 Only a short boat ride away and visible from the cliffs of Kefalonia lies the small island of Ithaki to the North-East. Ithaki is the 5th biggest Ionian island. Kefalonia and Ithaki are separated by a 22km long straight which is only 3.4-5km wide.
Famous for its lush greenery, tiny harbour villages, and stunning coastline, it's well worth a visit. A boat tour from Kefalonia will take you from the port of Agia Effima. On the way, you might see turtles, dolphins and rare seabirds. Enjoy views of Itaki's Vathy Bay as well as other charming beaches.
Your next destination is Gidaki Beach, considered by many to be the best beach in Ithaca. The turquoise blue waters and the natural landscape with its beautiful, lush vegetation impress every visitor. Due to its remoteness, it's well worth visiting Ithaki while nearby in Kefalonia!
Book your ferry to Ithaki:
#15 A day trip to Zakynthos Island
Zakynthos, known by most foreign tourists as 'Zante', is one of seven Ionian islands on the East coast of Greece. Zante is well known to Europeans as a package holiday destination as well as one of the party capitals of Europe, with its famous Laganas strip and 'white party. Zakynthos also has popular beaches and scenery for a more laid back trip! 
How to get around Kefalonia
Driving in Kefalonia
Many of the top sights in Kefalonia are remote and spread out. Having a car will enable you to see much more and save money on booking tours every day.
You can hire a car in Kefalonia or take the car ferry from Zakynthos. If you're planning an island-hopping adventure, I recommend hiring a car in Greece's capital Athens and reaching Kefalonia by car ferry from the mainland port of Kyllini. View the best hire car prices and availability here.
Bus Tours in Kefalonia
Bus tours are extremely popular with tourists in Kefalonia, especially if you're on the island without a hire car.
Many bus tours showcase the highlights of Kefalonia daily. It's also possible to book a customised tour. To learn more about the tours available during your visit, look at Get your Guide.
Boat Tours in Kefalonia
With a vast variety of beaches and most accommodation being based on the coast, it's not surprising that locals and tourists get around by boat.
Water-Taxis run between popular coastal spots and the capital Argostoli. Many visitors like to hire their own boat and explore the coast at their own pace (and maybe a few more islands too!).
Public Transport in Kefalonia
KTEL runs buses in Kefalonia. Fares are cheap, but departures can be infrequent. Most buses depart from Argostoli and connect Lassi, Sami and Fiscardo.
Taxis in Kefalonia
Taxis are the quickest way to get around Kefalonia without a hire car. They can be expensive, but it's more affordable for a group of people. Many fares between resorts and the airport are fixed. The journey from Sami to the airport is €55.
Moving on from Kefalonia
If you're visiting Kefalonia as part of an island-hopping trip, here's where you should travel to next:
Zakynthos | Only a short ferry ride away, Zakynthos is the next stop after Kefalonia. Although Zakynthos can be visited on a day trip, there's so much to see and do over a more extended period of time. Tempted? Look at what we recommend you do by reading 'Things to do in Zakynthos '.
Kyllini | Located on the Greek mainland, Kyllini is the nearest part of the Greek Mainland to Kefalonia. There are regular ferries to Kyllini, which take around 1.5 hours.
Athens | The capital of Greece and home of the ancient Acropolis, Athens is well worth visiting. As the gateway to mainland Greece's Greek islands and Northern regions, all major transport links run from Athens.
To read EXACTLY how to get from Athens to Kefalonia, read our full post here. I highly recommend exploring the beaches on the Athens Riviera and seeing a panoramic view of the city from the top of Mount Lycabettus. If you're short for time in Athens, look at our 24 hours in Athens itinerary.
The Cyclades | The Cyclades are the best island group in Greece for island hopping. You'll be in awe at the traditional Cycladic style blue and white buildings and the individual charm of each island. There are plenty of islands to choose from – the well-known islands of Santorini. Mykonos and Ios, the island of beautiful beaches (perfect for a family trip to Greece) – Naxos or some hidden gems such as Amorgos, Serifos and Andros.